Professional Logo Designer Specialising in Custom Logo Design Services in India
Enhance Your Brand Value with Our Custom Logo Design in India
Your logo is the face of your company. The design is extremely crucial as it is the easiest way to create a solid first impression. It is the tangible experience that your potential customers will likely have with your company in the first go.
Communicate through a heartfelt medium that will give the clients the essence of your brand. The best part about a logo is that it takes a few seconds to look at. We create the most engaging and stunning custom logo designs that set the tone of a business. To stay ahead of your peers, get in touch with us.
Every minute detail of your logo should be paid attention to as it tells the audience about your brand.
Whether you want to launch your business or revitalize your struggling business – we think through the color palette, font choices, and tone to ensure it catches the attention of your target audience.
Our logo designer will deliver your corporate logo that speaks to the target audience and establish a connection with them. It will also communicate the values of your brand.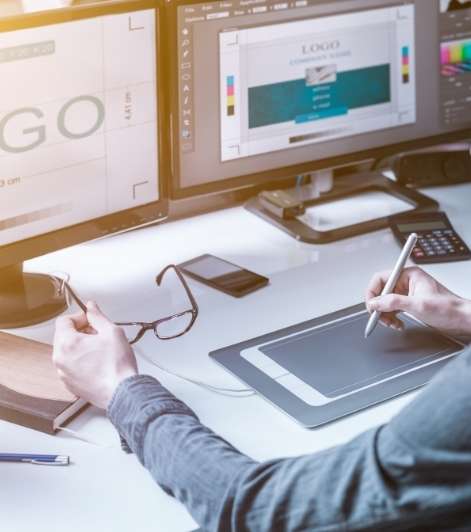 So you need a new Logo?
Our team can help you create the most amazing designs. And we believe that this is the sole job of a logo – leaving a permanent imprint in the customer's mind.
We will first try to understand your story and then create a logo, which is the foundation of your brand identity.
Customers should find it memorable!
Here is our logo design process.
Design Brief
Get to know the client's business.
Research
Conduct full-fledged research on the industry, its history, story, and competitors.
Brainstorming
We will brainstorm every idea so that you don't have to settle for less.
Design Execution
We will give you a range of promising logo design concepts to choose from.
Presentation
Present logo design concepts that are relevant to the client.
Revisions and Approval
We will make the required changes and work on its best deliverable version.
Delivery
Deliver the final logo artwork while abiding by guidelines.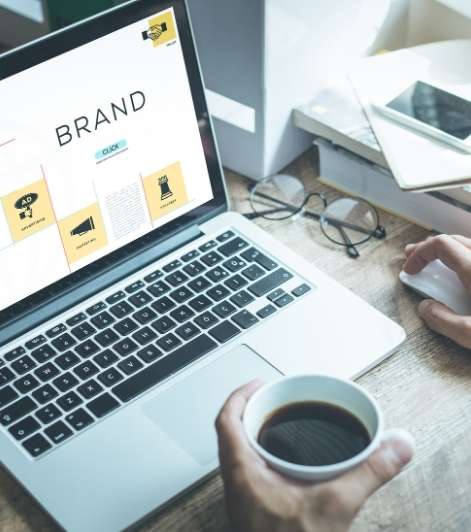 Don't just Purchase a Logo. Invest in your Brand Identity
At our company, you are actually making a long-term investment. It is way more than buying a logo. You are investing in a process that will provide you with a good ROI.
Our proven design process and team of talented designers has made us a trusted logo design company with experience in various styles, across all industries, throughout the world.
We don't use any template or clip-art.
6 Ways Logo Design can Benefit You
1. A great logo means a good first impression
The first thing a customer notices in a company is the logo. An attractive and well-thought logo is enough to hook a potential customer.
2. Designed with a concept and under the supervision of an expert
If you are not a pro, rely on experts for the best delivery. If you hire us, we will not let you down.
3. A good logo helps in enhancing brand identity
Your brand is the foundation block of your company. A good logo certainly contributes to it.
4. Your logo will help you establish your company
We only work with the best-trained and skilled designers and creative thinkers in the industry. They excel at their work and holds years of experience in their bags. Their designs are a visual retreat.
5. You can use the logo across other platforms as well
As your business expands, you should target all forms of media so that everyone knows about your brand. You can do it via printed materials, online content, trade shows, and events, etc.
6. You will see a good ROI
As mentioned earlier, if you invest to work with us, you will see significant ROI. We will help you establish your brand in the best possible ways. This long-term investment is worth it!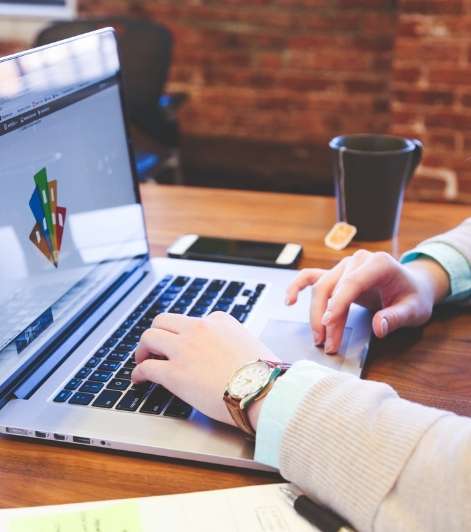 Logo design in India that boosts results
Professional logo design grabs the attention of onlookers very easily. It is the gateway to success as everything starts making sense if it does. This is the reason why it is so important for us to sit with you to have a conversation. We have to understand your goals and objectives.
Our creative and digital expertise will fetch you ROI
As we always say, a good logo design needs efforts to provoke certain emotions within a target audience. We cater to clients across the globe and help them convey messages through a visual format. Our strategy is to create a unique and catchy logo.
Why choose our logo design services?
Fresh and unique ideas
We believe that you can conquer the internet with fresh and creative ideas! Our designer will help you with ideas that are deep and will have an impact on the audience. They are bound to give your results.
Revisions
After we have had the discussion, we will work on the artwork and make some modifications if required.
Final files
We will send you all the formats once it is done. We will help you arrange them for use.
Experience
We bring in years of experience in working with clients with different demands. Every industry has its own requirements and you have to rely on our expertise to execute great concepts.
Accurate estimates
We provide free quotes.
There is no obligation at all! Our transparent quotation will impress you. You will know what to expect.
Impeccable communication
We communicate well with our clients so that all of us are on the same page.
Frequently Asked Questions
Check out some of our recent Logo Design work
"Have worked with Sanjay for 3 years. He is excellent with Web Designing, UI and UX. He has a completely different perspective to UI which makes the design look very good and the user experience is so much better than other websites. Sanjay has made 7 websites for me"

Mr Rohit K Singhania

"Sanjay and his team had developed my logo and company website. They met every one of my expectations; time, value, professionalism, customer service. I intend to continually rely on his firm for developing my marketing materials and to keep my website current. Without a doubt, I would highly recommend using Sanjay's services for your web development and graphic needs. "

Bill Taylor

"Sanjay is a highly dependable team player who has an amazing domain knowledge and is always willing to contribute his100% to the project/organization. It has been a pleasure knowing a person and professional like Sanjay and I would look forward to work with him in future we well."

Gurprit Ahuja